Co-located Events
CAD/Graphics 2013

The 13th International Conference on Computer-Aided Design and Computer Graphics (CAD/Graphics 2013) is organized by the City University of Hong Kong. The conference will be held in Hong Kong from 16 – 18 November 2013, co-located with SIGGRAPH Asia 2013.
CAD/Graphics is affiliated with the Chinese Computer Federation (CCF) and is a biennial international conference. It provides a worldwide forum for international researchers and developers to exchange new ideas on computer-aided design, computer graphics, electronic design automation and visualization to explore new ideas and trends. This year all regular papers accepted to CAD/Graphics 2013 will be published in a special issue of the Computers & Graphics Journal (Elsevier) before the conference.
Event Dates and Venue:
Conference: 16 – 18 November
Venue: Run Run Shaw Creative Media Centre, City University of Hong Kong
For more information, please visit:
CAD/Graphics 2013 Website
Facebook
Google+
VRCAI 2013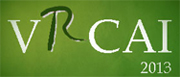 The Chinese University of Hong Kong (CUHK) is pleased to host the 12th ACM SIGGRAPH International Conference on Virtual-Reality Continuum and its Applications in Industry (VRCAI 2013), from 17 – 19 November 2013. As a joint conference of SIGGRAPH Asia 2013, VRCAI 2013 will take place just before SIGGRAPH Asia 2013.

VRCAI 2013 solicits papers and posters from both academia and industry in the world - a hotbed of innovation - where fundamental methods, state-of-the-art technologies and applications in the Virtual Reality Continuum (VRC) will be explored and presented. Virtual Reality Continuum (VRC) emphasizes the consistence of virtual world and the real world. To advance research in the VRC fields, VRCAI 2013 seeks to provide a forum for scientists, researchers, developers, users and industry leaders in the international VRC community to come together to share experiences, exchange ideas and spur one another in the knowledge of this fast-growing field.

Click here to find out more about VRCAI 2013.