Emerging Technologies Presentations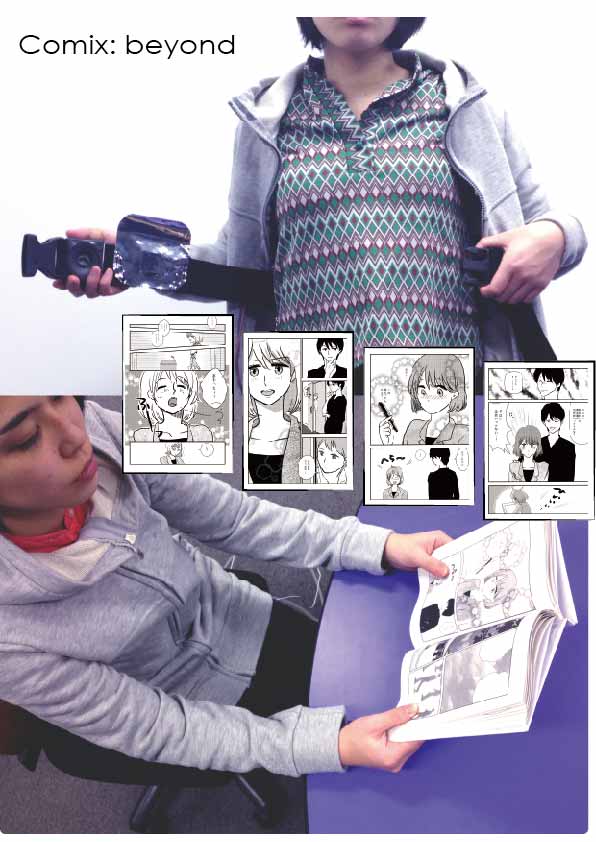 Comix: beyond: Evoking Multiple Emotions using Pseudo Body Responses Depending on the Context
The goal of this study is evoking multiple emotions by presenting combinations of sensory stimulus based on the contexts in contents such as a comic as if the user feels those as their own real bodily responses.
Recent psychology researchers have argued that physiological changes occur prior to an emotion, and some sort of emotion evokes through recognizing not only change in real body reactions but also feedback of stimuli that resemble the change in somebody reactions. On the other hand, different emotions may be evoked according to the way we interpret our own environments, even when similar circumstances and bodily responses arise.
Based on the knowledge, we hypothesize that providing a variety of pseudo-physiological responses with contexts can be evoked a greater number of emotions as intended than the number of pseudo-physiological responses used. We made a system named "Comix: beyond" to test our hypothesis. In this study, we focused on the relationship among heartbeat, vital warmth, chest pressure and seven emotions: throb, tense feeling, fear, feeling of a heartache, the feeling of going pale and sense of security. Since especially we speculate that contexts have an important role in evoking and enhancing the specific emotion with combinations of pseudo-bodily, we decided to use a comic whose story provides various contexts. The feedback of some people who used the work suggests a possibility that the work realizes our approach to evoke multiple emotions.
Our approach will be applied to not only comic but also other entertainment media, such as the movies and the games. It realizes novel media to provide more synchronized emotions with the one of the characters in the comic to a consumer, and lets people be more absorbed in the story. This also fertilizes interactive contents that work upon human emotion for entertainment.
Sho Sakurai
University of Tokyo

Toki Katsumura
University of Tokyo

Takuji Narumi
University of Tokyo

Tomohiro Tanikawa
University of Tokyo

Michitaka Hirose
University of Tokyo